April 14-16 2011 Outbreak…
Henry Margusity is a meteorologist at Accuweather.com. Over there he has a weather blog, "Meteorological Madness," that I  frequent in the winter months to hear his storm predictions. He also does severe weather forecasts in the spring and summer. Following him on Twitter, he said this evening:
"This is one of the worse tornado outbreaks I have seen since 2008.."
He certainly has the experience and background to call this. When you hear a senior forecaster call something 'one of the worse' believe it.
Would like to share some media, because that will obviously be what people are looking for. Some quick facts beforehand though. This three-day outbreak has had over 220 tornado reports amid hundreds of other damaging hail and straight-line wind damage reports. As of this morning, there have been at least 35 45 fatalities. Hundreds of buildings have been leveled, and more damaged. The injuries and fatalities could have been much worse had people not heeded the Tornado Warnings and followed safety recommendations from the National Weather Service and local law enforcement.
Report Maps: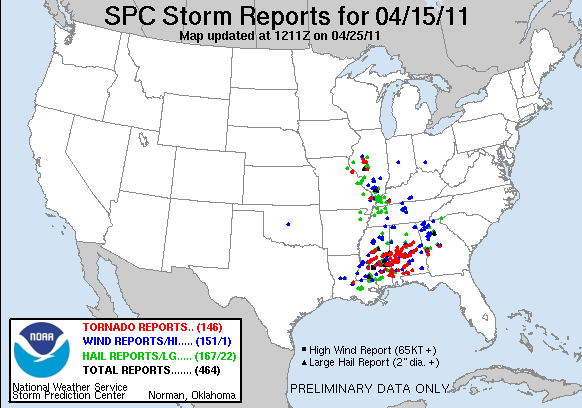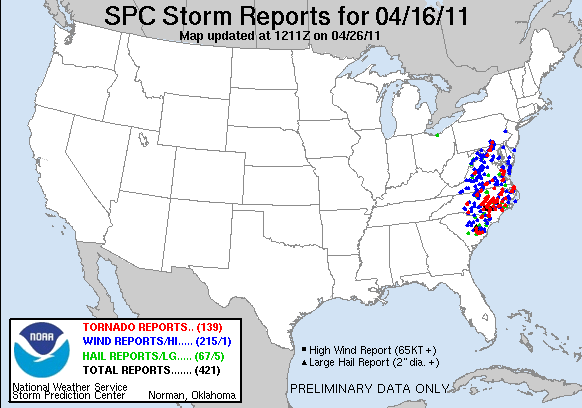 Video
This one has spread like wildfire, but it has some incredible detail!
I downloaded a time-lapse loop of the storm trekking across the country and uploaded it to YouTube. You can clearly see the three rounds of severe weather ignite across portions of the Plains and South. Final wave is a little cut off towards the eastern coast.
Time-lapse of the tornado that went through downtown Raleigh, NC. Most of it is rain wrapped, but as it nears you can see debris being tossed around.
http://www.wral.com/weather/video/9454747/
Images:
Really like this shot of the storm system because it has such great definition. Dry air can be located clearly as well as the moist air. Center of the low is positioned over western Kansas, and the firing line of storms is actually bubbling with overshooting tops.
Forecast Office Reports:
These reports are usually extensive in reporting damage and storm set-up near their office. I usually skim them for information that would make the blog report more interesting, BUT THERE IS TO MUCH!
Tulsa, OKs
Norman, OK
Dallas/Fort Worth, TX
Little Rock, AR (great graphics explaining set up)
Peachtree City, GA
Jackson, MS  (extensive radar data)
Storm reports from Saturday are incomplete as survey teams are probably heading out Sunday to assess damage. Will keep this list updated as more become available.