Sheer Devastation
Horrible news coming from the south today. CNN reports over 250 fatalities from the tornado outbreak Wednesday. According to an Accuweather.com post, this ranks as the second deadliest outbreak since 1950. The top seed goes to the 1974 Tornado Super Outbreak April 3-4. That outbreak was responsable for 308 fatalities.
Some other states from the AccuWeather page:
As of 4 p.m. EDT:

Tornado reports: 165

States with at least one tornado report: 14 (Tenn., Ohio, Miss., Ala., Ark., Mo., Ga., Va., Ind., Md., S.C., N.C., Fla., N.Y.)

Deaths: 272, with 184 in Alabama alone. (According to CNN)

States reporting deaths: 6 (Tenn., Va., Ala., Ga., Miss., Ark.)

Hail reports: 188

Largest hail reported: 4 inches in diameter, Batesville, Miss.

Wind reports: 363

Strongest gust recorded: 113 mph in Bay, Ark. at the airport

Power Outages: Still >300,000 without power in Tennessee this morning. Alabama Power set a new record for outages: 413,000. Browns Ferry Nuclear Plant repairs could take "weeks." At one point it was estimated that more than 1 million people in Alabama alone were without power. More than 50,000 lost power in Georgia.
I would not be surprised if this outbreak approached or exceeded the 1974 results as it is still very early in damage assessment and the total climbed sharply overnight. Of course I do not want it to, but the locations affected were high population, especially the Tuscaloosa and Birmingham areas. The tornado that ripped that path continued for over 3 hours which is unprecedented. Plenty of media available, this one takes the cake in my book:
Just too many photos out there, here is a link to some CNN results.
NWS reports: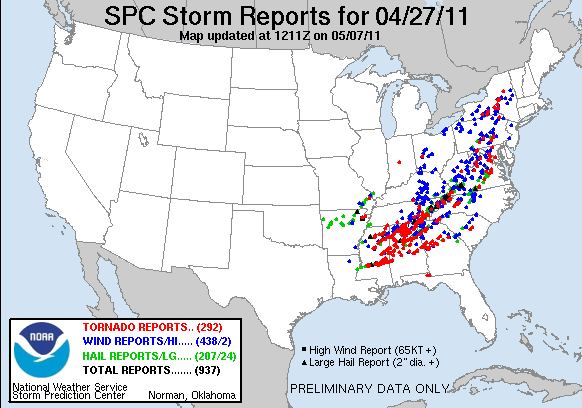 A little closer to home, minor flooding is taking place along the Chippewa river. Managed my way down there late last night and this morning to take some photos.
This flooding should be at or near the peak. Would expect the level to go down within the next day, but the park will sure be soggy for a week or so.
Some spotty showers are still possible through Thursday, but Friday and Saturday should clear up. Rain returns for Sunday and Monday.